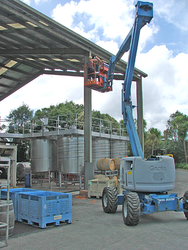 Time is money - That's why in today's demanding manufacturing and processing environments you need to minimise down time through equipment failure, electrical supply faults and human error.
We may not be able to do much about human error, but at Alpha Electrical we can certainly help you to maintain plant and supply by offering an ongoing electrical preventive maintenance plan and call out service.
As you can see from our experience there are a number of essential electrical services we can offer you and your facility, this factor alone gives us a competitive advantage in the industry but the real dividends impact on your bottom line through real cost savings from a single source service provider.
3 Phase motors, machinery repairs and maintenance
Industrial Lighting
Plant Maintenance
New replacement or upgraded switchboards
Alarm Systems
Temperature controls
Refrigeration wiring
Phone and Data Cabling
Trenching
Cable Laying
Power and Control Systems
Switchgear Installation
Materials Handling Systems
Production Line installation and maintenance
Panel Design and Build
Standby Generator Installation
We cover many other types of electrical installations, just give us a call to discuss your needs.